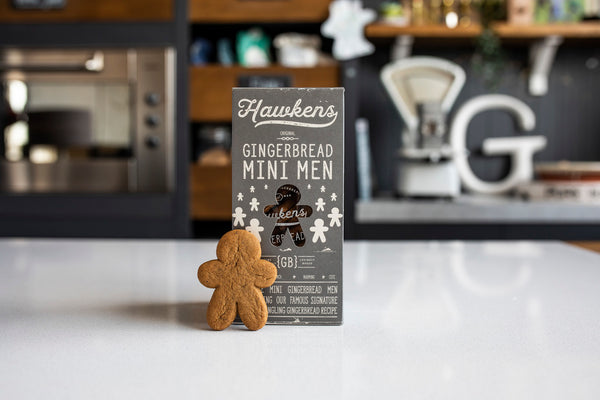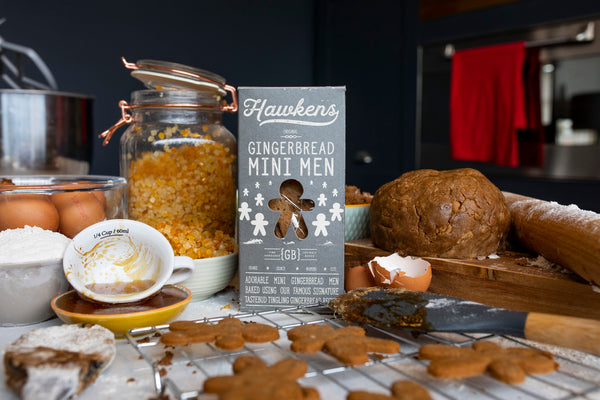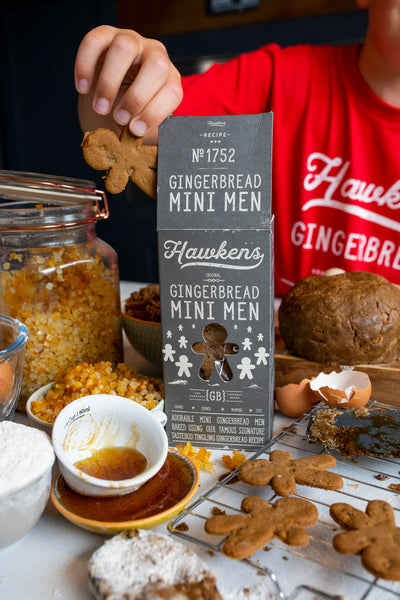 Hawkens Gingerbread Mini Men
RETAIL
1 X CARTON (120G) HAWKENS GINGERBREAD MINI MEN
UK MAINLAND FREE DELIVERY is given to all orders over the value of £30. This will be automatically applied at the checkout. 
We also deliver to overseas addresses. Delivery will be calculated at checkout.

PRODUCT DESCRIPTION
Oh my days but seriously when did you ever use 'cute' and 'biscuit' in the same breath? Ha ha well we're going to assume that you haven't unless that it you've already tasted this stunning and absolutely gorgeous biscuit in the Hawkens Gingerbread range.
So everybody loves to nibble a Gingerbread Man. Are we agreed on this? Well the issue that we find with a Gingerbread man is that whilst they are big enough to share they don't get shared. Apart from the complexities of how on earth would you share them if indeed you went down that road? Who would have the head if I have the feet? 
Well we have solved this once and for all and decided that we would make a carton of miniature gingerbread in a carton designed to share. Share amongst your children, your work mates, or tucked up on the sofa for movie night. Whatever you choose to do with these gorgeous little beauties our signature recipe gingerbread will not fail to delight and pop equally beautiful smiles on lots of peoples faces.
Not a bad result for a gingerbread biscuit eh ?
The Gingerbread Mini Men are attractively packed into the most adoringly handsome carton printed in a school trouser grey metallic ink. On the side panel is a history of the gingerbread man himself, its origins and popularity around the world including it's link to wizards and witches!
On the rear panel is all of the required nutritional and allergen information on the rear.

 Shelf life:- 6 months from the date of production. Minimum shelf life to customer of 4 months.
Ingredients:- 
Flour (WHEAT), sugar, vegetable fat (palm, rapeseed, sunflower), golden syrup, crystalised ginger, EGG, black treacle (SULPHITES), mixed peel, baking powder (WHEAT), ground ginger (1%), mixed spice (1%), ground cloves, salt, bicarbonate of soda
The perfect gift? Add a personalised messaged with every purchase.*
* Simply reply to your order  confirmation email after checking out and let us know the message that you would like to include with your gift. Our team will then print it out, enclose it with your purchase and then send it on its way.