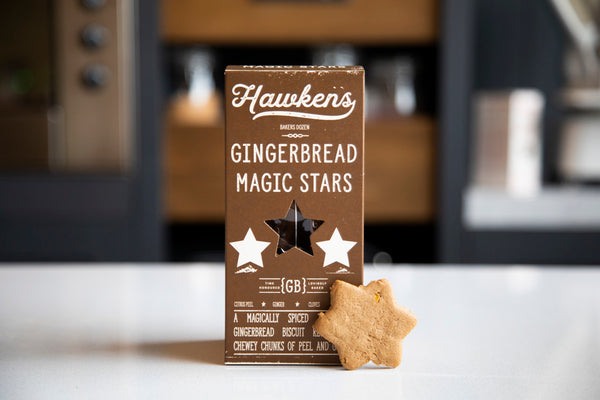 Hawkens Gingerbread Magic Stars
RETAIL
1 X CARTONS (125G) GINGERBREAD MAGIC STARS
UK MAINLAND FREE DELIVERY is given to all orders over the value of £25. This will be automatically applied at the checkout. Delivery is available for all orders under £25 from £3.50 for a 48 hour working day tracked courier or £5 for a more speedy 24 hour delivery.
We also deliver to overseas addresses. Delivery will be calculated at checkout.
PRODUCT DESCRIPTION
Our cartons Of Gingerbread Magic Stars are exactly what gingerbread should be about, a little bit of fun. Our bite sized fun sized biscuits are packed full of flavour. The magic in our stars is in the spice blend in our recipe which plays tricks with you tasebuds.  To give texture and bite to the biscuit we have incorporated lemon and orange peel along with crystalised ginger pieces. This recipe is baked into the classic form of the gingerbread man and the retail packs are attractively packed into handsome cartons which have a fantastic shelf appeal and sell themselves. on the side panel is a fun and informative explanation as to why a bakers dozen, a Hawkens Gingerbread range in which these biscuit belong, is so called. All of the required nutritional and allergen information on the rear. 
Shelf life:- 6 months from the date of production. Minimum shelf life to customer of 4 months.
Ingredients:- 
Flour (WHEAT), sugar, vegetable fat (palm, rapeseed, sunflower), golden syrup, crystalised ginger, EGG, black treacle (SULPHITES),  mixed peel, baking powder (WHEAT),  ground ginger (1%), mixed spice (1%),  salt, bicarbonate of soda