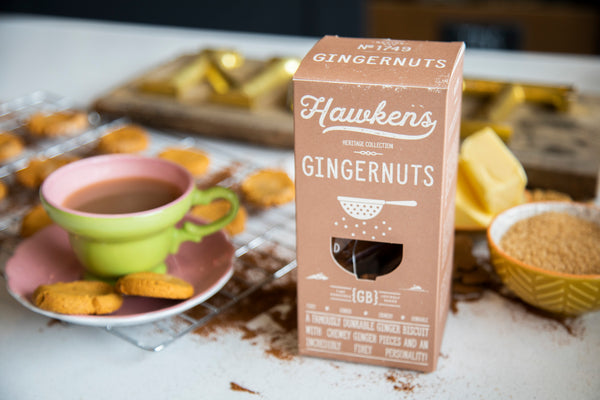 Hawkens Gingernuts
RETAIL
1 X CARTON (135G) GINGERNUTS
UK MAINLAND FREE DELIVERY is given to all orders over the value of £30. This will be automatically applied at the checkout. 
We also deliver to overseas addresses. Delivery will be calculated at checkout.

PRODUCT DESCRIPTION
The Hawkens Gingernut is possibly one of our most exciting ever product launches. As lovers of our biscuits heritage we fell in love with the opportunity to bring to market our own version of the famous gingernut biscuit recipe. But we didn't just create our own gingernut recipe we took the gingernut biscuit to a whole new. The Hawkens Gingernut is by far the greatest tasting gingernut that we have ever come across. It is hot and fiery  as a  gingernut biscuit should. But it is deep in flavour and not just heat. A richness of the butter fat that we use combined with a unique signature spice blend and chunks of crystalised ginger really make these famous 'dunker's a biscuit that your customers will become quickly obsessed by. The gingernuts are attractively packed into the most adoringly handsome carton printed in a copper metallic ink. On the side panel is a history of the gingernut biscuit, its origins and popularity around the world including the different names used for the biscuit is different countries. On the rear panel is all of the required nutritional and allergen information on the rear.

 Shelf life:- 6 months from the date of production. Minimum shelf life to customer of 4 months.
Ingredients:- 
Flour (WHEAT), crystalised ginger, butter (MILK), sugar, ginger syrup,  vegetable fat (palm, rapeseed, sunflower), golden syrup, bicarbonate of soda, baking powder (WHEAT),  ground ginger (1%), mixed spice (1%), salt, 
---