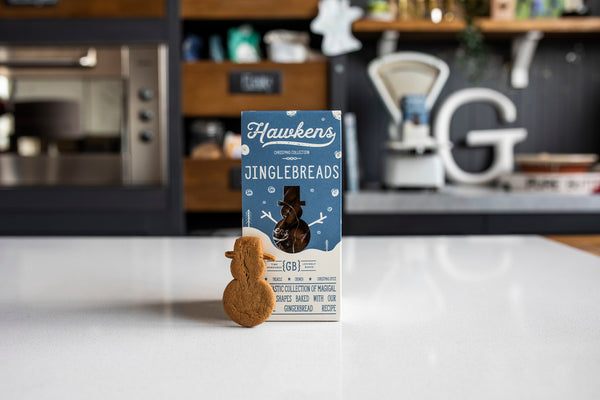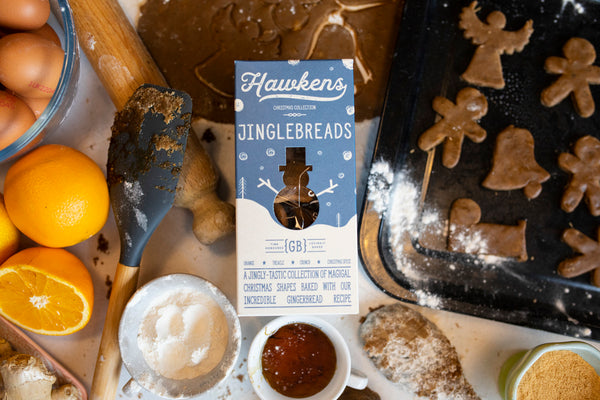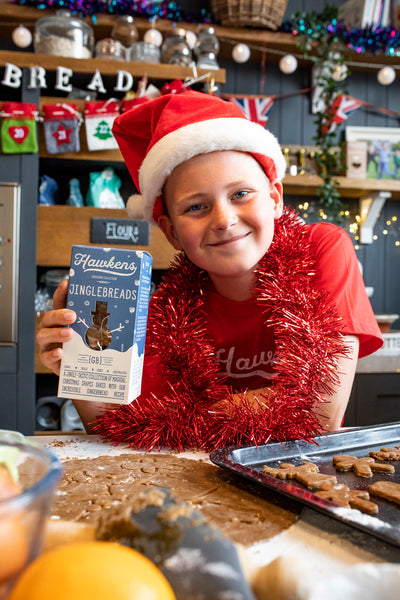 Hawkens Gingerbread Jinglebreads
RETAIL
1 X CARTONS (120G) HAWKENS GINGERBREAD JINGLEBREADS
UK MAINLAND FREE DELIVERY is given to all orders over the value of £30. This will be automatically applied at the checkout. 
We also deliver to overseas addresses. Delivery will be calculated at checkout.
PRODUCT DESCRIPTION
Christmas is about children? Seeing the magic in their eyes, the excitement in their little faces and the beautiful little memories that will last for a lifetime being made right in front of your very eyes. Well we agree. And our new Jinglebreads are all of those important things squeezed into one carton of Hawkens Gingerbread.
But what is different here is that this addition to the Hawkens Gingerbread range was created by a little person as well. Our founder Alastair Hawkens is blessed to have 3 amazing children, and one  of them Charlie, whilst jinglebells was playing on the radio,  said 'daddy we should make a biscuit and call them 'Jingle-breads' And the rest as they say is crammed into this beautiful carton of joy.
 The Hawkens Gingerbread Jinglebreads are a jingly-jangly collection of Christmas shaped biscuits baked from our now famous signature Hawkens Gingerbread recipe. In your carton you will find angels, snowmen, gingerbread men and even a Christmas bell
The Jinglebreads  are attractively packed into the most handsome carton printed in a midnight blue metallic ink. On the side panel is a fab collection Jingly-tastic fun facts with a guaranteed assortment of Christmas conundrums that you never knew were true!
On the rear panel is all of the required nutritional and allergen information on the rear.

 Shelf life:- 6 months from the date of production. Minimum shelf life to customer of 4 months.
Ingredients:- 
Flour (WHEAT), sugar, vegetable fat (palm, rapeseed, sunflower), golden syrup, crystalised ginger, EGG, black treacle (SULPHITES), mixed peel, baking powder (WHEAT), ground ginger (1%), mixed spice (1%), ground cloves, salt, bicarbonate of soda
The perfect gift? Add a personalised messaged with every purchase.*
* Simply reply to your order  confirmation email after checking out and let us know the message that you would like to include with your gift. Our team will then print it out, enclose it with your purchase and then send it on its way.
---